Kiss Me Like A Stranger: My Search for Love and Art (Paperback)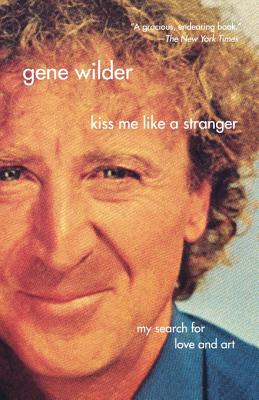 Description
---
Gene Wilder was one of the great comic actors who defined the 1970's and 1980's in movies. From his early work with Woody Allen to the rich group of movies he made with Mel Brooks to his partnership on screen with Richard Pryor, Wilder's performances are still discussed and celebrated today. Kiss Me Like A Stranger is an intimate glimpse of the man behind the image on the screen.
In this book, Wilder talks about everything from his experiences in psychoanalysis to why he got into acting (and later comedy-his first goal was to be a Shakespearean actor) to how a Midwestern childhood with a sick mother changed him. He writes about the creative process on stage and on screen, and divulges moments from life on the sets of the some of the most iconic movies of our time. He also opens up about his love affairs and marriages, including his marriage to comedian Gilda Radner. But the core of Kiss Me Like A Stranger is an actor's search for truth and a thoughtful analysis of why the choices he made-some of them so serendipitous they were practically accidental-changed the course of his life.
About the Author
---
Gene Wilder (1933-2016) began acting when he was thirteen and writing for the screen in the early 1970s. After a small role in "Bonnie and Clyde" pulled him away from a career onstage, he was nominated for an Academy Award as Best Supporting Actor for his role as Leo Bloom in "The Producers", which led to "Blazing Saddles" and then to another Academy nomination, this time for writing "Young Frankenstein". Wilder appeared in twenty-five feature films and a number of stage productions. His first book, about his own life, was Kiss Me Like A Stranger. It was followed by the novels My French Whore, The Woman Who Wouldn't, and Something to Remember You By and a book of stories, What Is This Thing Called Love?.
Praise For…
---
"a gracious, endearing book" —The New York Times
"I always knew Gene Wilder was a remarkable person, but I didn't realize how remarkable until I read this brave, riveting book." —Charles Grodin, actor
"...an honest, affecting look at his life. Strong, tender and revealing" —Kirkus
"A wonderful addition to the entertainment memoir Gene pool." —Library Journal
"A witty memoir. It's also a reflective and well-written meditation on the life of someone who has more on his mind than the next big part or belly laugh." —Los Angeles Times
"It's impossible to not feel deep affection for Gene Wilder." —Entertainment Weekly
"Come for inside dish on his funniest movies, stay for touching stories about Mel Brooks, Gilda Radner and others. A classy memoir." —Newsweek