The Age of Innocence (Paperback)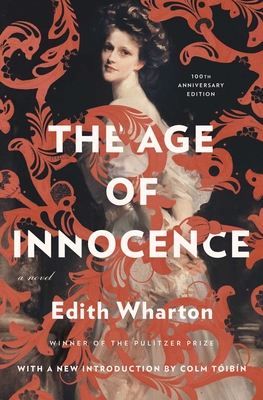 $18.00
We Can Order This For You
Description
---
Winner of the 1921 Pulitzer Prize, The Age of Innocence is an elegant, masterful portrait of desire and betrayal in old New York—now with a new introduction from acclaimed author Colm Tóibín for the novel's centennial.

With vivid power, Wharton evokes a time of gaslit streets, formal dances held in the ballrooms of stately brownstones, and society people "who dreaded scandal more than disease." This is Newland Archer's world as he prepares to many the docile May Welland. Then, suddenly, the mysterious, intensely nonconformist Countess Ellen Olenska returns to New York after a long absence, turning Archer's world upside down.

This classic Wharton tale of thwarted love is an exuberantly comic and profoundly moving look at the passions of the human heart, as well as a literary achievement of the highest order.
About the Author
---
Edith Wharton (1862–1937) was an American novelist—the first woman to win a Pulitzer Prize for her novel The Age of Innocence in 1921—as well as a short story writer, playwright, designer, reporter, and poet. Born into one of New York's elite families, she drew upon her knowledge of upper class aristocracy to realistically portray the lives and morals of the Gilded Age.

Colm Tóibín is the author of nine novels, including The Blackwater Lightship; The Master, winner of the Los Angeles Times Book Prize; Brooklyn, winner of the Costa Book Award; The Testament of Mary; and Nora Webster, as well as two story collections, and Mad, Bad, Dangerous to Know, a look at three nineteenth-century Irish authors. He is the Irene and Sidney B. Silverman Professor of the Humanities at Columbia University. Three times shortlisted for the Man Booker Prize, Tóibín lives in Dublin and New York.
Praise For…
---
Praise for The Age of Innocence

"The first time I read [The Age of Innocence], when I was finished, I held it to my chest and thought, 'I want to write like this.'"
— Roxane Gay

"The Age of Innocence, by Edith Wharton, gets romance right. It gets love right and it's grounded and it's beautiful. It's deeply moving."
— Ta-Nehisi Coates

"I generally try to avoid honorifics like 'best novel ever' or 'greatest American novel' and so on. But The Age of Innocence really is quite incredible, and, at the moment, I consider it the best novel I've ever read...it's a great book executed by a writer at the top of her game."
— Ta-Nehisi Coates

"It is one of the best novels of the twentieth century and...a permanent addition to literature."
— New York Times Book Review

Praise for Edith Wharton

"Edith Wharton is my favorite writer and her incisive indictments of the wealthy class she was a part of, are endlessly interesting to me. I also love her gorgeous descriptions."
— Roxane Gay

"What I love about Wharton—the Wharton who wrote The Age of Innocence—is her empathy and ambivalence."
— Ta-Nehisi Coates

"Traditionally, Henry James has always been placed slightly higher up the slope of Parnassus than Edith Wharton. But now that the prejudice against the female writer is on the wane, they look to be exactly what they are: giants, equals, the tutelary and benign gods of our American literature."
— Gore Vidal

"Edith Wharton was there before all of us; disdainful, imperious, brilliant foremother."
— Francesca Segal

"Only a few works of fiction can reasonably be called 'perfect,' and [Wharton's Ethan Frome] is one of them. There's a crystalline purity to the prose, and a wintry sadness in the story. It gets deep in your bones."
— Tom Perrotta

"There are only three or four American novelists who can be thought of as 'major,' and Edith Wharton is one."
— Gore Vidal