The Pilgrim's Progress: Graphic Novel (Paperback)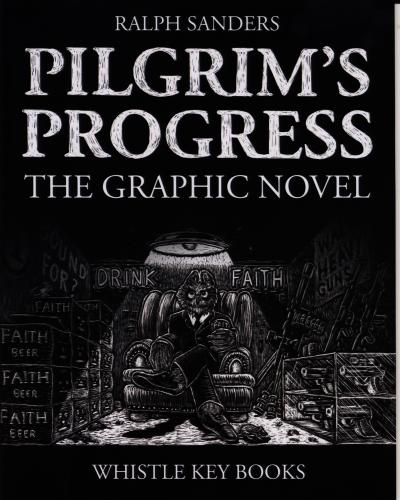 $20.00
Special Order - Please Call the Store to Verify
Description
---
I set John Bunyan's 1678 Christian allegorical journey from Destruction City to Celestial City in our present day world of the economy, labor, politics, religion and war. My work is an experimental design based in illustration and printmaking, not in a traditional comics. The narrative is a physical part of the landscape in my work to transmit the story with a high level of immediacy. Lynd Ward's wordless pictorial narrative books, Gustave Dore's prints, editorial cartoons, underground comics and visionary art have influenced me.

The King's Highway, traveled by motorcyclist Pilgrim, is lined with doors to Hell in shopping malls, cities, gas stations, churches and farms. These crossroads open his eyes to the possibilities of his fate. He travels from his Temporal home to his Eternal home. I am true to John Bunyan's biblical and societal references showing the commonality of his story in today's world.

About the Author
---
Ralph Sanders is an independent illustrator currently based in Santa Cruz, California, USA. He has a Bachelor of Fine Arts from Texas Tech University and a Master of Fine Arts from East Tennessee State University. He has taught at the college level for many years in the South and in Appalachia – the area of the United States with the richest traditions of storytelling and folk art. In the past few years he has been creating his own way of storytelling using a graphic novel approach; his work, "Pilgrim's Progress: The Graphic Novel", is scheduled to be published in April 2018.