Adapt or Wait Tables: A Freelancer's Guide (Paperback)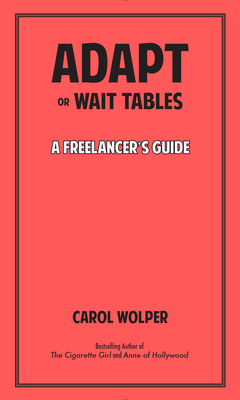 Please call for price (310) 659-3110.
Description
---
Inability to adapt is the new illiteracy and freelancing is becoming America's new normal. What 2008 taught America was not just that derivatives are dangerous and the housing market doesn't rise forever. It also taught us that survival requires juggling and pivoting, two skills that any freelancer is forced to acquire if they want to keep paying their rent. Adapt or Wait Tables is a mix of information, tricks, and advice for all the freelancers out there, and the ones who will be stepping onto that playing field as they graduate from college. Written by a freelance writer who has spent the past two decades covering Hollywood and the world of pop culture and fashion, her tips for survival are laced with gossip and references to the famous as well as what she calls the "secret celebrities" whose paths they have crossed. Consider this an entertaining how-to manual for anyone with ambition and no road map.

About the Author
---
Carol Wolper is a Los Angeles-based journalist, screenwriter, and author of four novels including The Cigarette Girl, a national bestseller which has been translated into eight languages. Her latest book, Anne of Hollywood has been optioned by Warner Brothers and is in development at E!