The Story Collector: A New York Public Library Book (CD-Audio)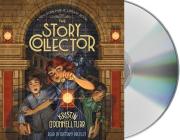 $28.99
Special Order - Please Call the Store to Verify
Description
---
"Viviani Joffre Fedeler is full of spunk and pizzazz, thanks to the craft of narrator Brittany Pressley. She weaves Tubb's story masterfully, bringing alive Viviani's wild imagination and exciting tales about what goes on in the New York Public Library." — AudioFile Magazine
The Story Collector by Kristin O'Donnell Tubb is a middle-grade historical fiction audiobook inspired by the real life of Viviani Joffre Fedeler, born and raised in the New York Public Library.
Eleven-year-old Viviani Fedeler has spent her whole life in the New York Public Library. She knows every room by heart, except the ones her father keeps locked. When Viviani becomes convinced that the library is haunted, new girl Merit Mubarak makes fun of her. So Viviani decides to play a harmless little prank, roping her older brothers and best friend Eva to help out.
But what begins as a joke quickly gets out of hand, and soon Viviani and her friends have to solve two big mysteries: Is the Library truly haunted? And what happened to the expensive new stamp collection? It's up to Viviani, Eva, and Merit (reluctantly) to find out.
About the Author
---
Kristin O'Donnell Tubb is the author of Autumn Winifred Oliver Does Things Different, Selling Hope, and The 13th Sign. She lives in Tennessee with her family.

IACOPO BRUNO is a graphic artist and illustrator who lives in Italy. He illustrated James Preller's Home Sweet Horror, I Scream, You Scream!, Good Night, Zombie, and Nightmareland.

Brittany Pressley is an Audiofile Earphones award winning narrator in NYC. She has recorded over 100 titles and has received several nominations for American Library Association's annual list of Amazing Audiobooks for Young Adults. She is also an accomplished singer/songwriter and voice actress. Her voice can be heard on national and international TV and radio commercials as well as several animated series and video games. She is a proud graduate of Columbia University.
Praise For…
---
"Viviani Joffre Fedeler is full of spunk and pizzazz, thanks to the craft of narrator Brittany Pressley. She weaves Tubb's story masterfully, bringing alive Viviani's wild imagination and exciting tales about what goes on in the New York Public Library." - AudioFile