Duped: Double Lives, False Identities, and the Con Man I Almost Married (Hardcover)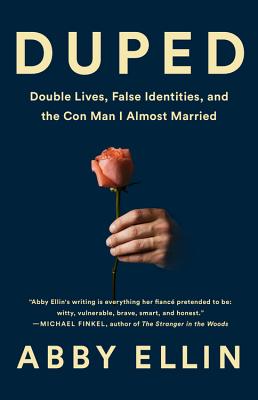 Description
---
Abby Ellin was shocked to learn that her fiancéas leading a secret life. But as she soon discovered, the world is full of people who aren't what they seem.

From Abby Ellin's first date with the Commander, she was caught up in a whirlwind. Within six months he'd proposed, and they'd moved in together. But soon, his exotic stories of international espionage began to unravel. Finally, it all became clear: he was lying about who he was.

After leaving him and sharing her story, she was floored to find out that her experience was far from unique. People everywhere, many of them otherwise sharp-witted and self-aware, are being deceived by their loved ones every day.

In Duped, Abby Ellin studies the art and science of lying, talks to people who've had their worlds upended by duplicitous partners, and writes with great openness about her own mistakes. These remarkable stories reveal how often we encounter people whose lives beneath the surface are more improbable than we ever imagined.
About the Author
---
Abby Ellin is an award-winning journalist and the author of Teenage Waistland: A Former Fat Kid Weighs In On Living Large, Losing Weight and How Parents Can (and Can't) Help. For five years she wrote the "Preludes" column about young people and money for the Sunday Money and Business section of the New York Times. She is also a regular contributor to the Health, Style, Business and Education sections of the New York Times.

Her work has been published in the New York Times Magazine, New York, the Wall Street Journal, the Los Angeles Times Magazine, Psychology Today, Time, Newsweek, the Village Voice, the Boston Phoenix, Salon, Marie Claire, Cosmopolitan, Glamour, and Spy (RIP). She holds an MFA in Creative Writing from Emerson College and a Masters in International Public Policy from Johns Hopkins University. As of this writing, her greatest accomplishments are summiting Kilimanjaro (with a broken wrist!) and naming "Karamel Sutra" ice cream for Ben and Jerry's.
Praise For…
---
"I have recommended this one to friends who've loved someone they turned out not to know... [Ellin] pulls off the tricky balancing act of avoiding either self-justification or self-castigation...Reading 'Duped' gave me occasion to second-guess even gentler deceptions; it may actually have made me a (slightly) better person."—
Tim Kreider, New York Times Book Review
Abby Ellin's writing
is everything her fiancé pretended to be: witty, vulnerable, brave, smart, and
honest.—
Michael Finkel, author of the National Bestseller, The Stranger in the Woods
"Candid and entertaining, Ellin's book offers insight into the socially and psychologically complex nature of deceit as well as the choices she made as a duped woman. Lively, provocative reading."—
Kirkus Reviews
"The author's hybrid of memoir and journalism works well for general readers, keeping things engaging and witty...A timely book for folks who wonder how we ended up in this post-truth world as well as readers of books
like A Beautiful, Terrible Thing (2017) by Jen Waite."
—
Booklist
"Abby Ellin has been
Duped
,
and in this fascinating book, she reveals how and why ordinary people are often
deceived by extraordinarily mendacious con artists. Ellin's personal story
leads her to delve deep into research of why people lie and how they lie, and
she discovers how common treachery can be. If you've ever been lied to, or told
a lie, you will want to read this surprising, personal, and funny investigation
of deception."—
Piper Kerman, #1 New York Times bestselling author of Orange is the New Black
"I couldn't put it
down!"—
Gretchen Rubin, #1 New York Times bestselling author of The Happiness Project and The Four Tendencies
"From the wildly
entertaining opening chapter of
Duped
, Abby Ellin explores the why and
how of great imposters, many of whom occupied important swaths of her life.
Swerving from the deceitful, manipulative, pathological narcissists to the
professional use of lie detectors, she makes researching dishonesty an
entertaining and fascinating read."—
Jonna Hiestand Mendez, former CIA chief of disguise
"I loved this book,
and not just because of Abby Ellin's masterful storytelling. This is a book
that can save lives. She paints an exquisite portrait of what life with a
predator is like. No child should go to college without first reading this
book."—
Joe Navarro, former FBI agent and bestselling author of Dangerous Personalities
"Thrilling, weird,
and funny,
Duped
reveals the psychology of gaslighting, the prevalence
of gullibility, and the wisdom in paranoia. Abby Ellin is a shrewd chronicler
of cons and a gracious friend to the duped."—
Ada Calhoun, author of Wedding Toasts I'll Never Give