The Narcissism of Small Differences (Paperback)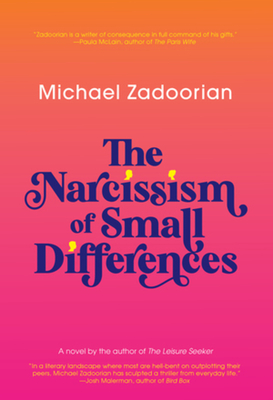 Description
---
"The Narcissism of Small Differences is one of Zadoorian's] best. He has become an essential chronicler of the life in Detroit at the beginning of our century."
--Stateside, Michigan Public Radio
"Like Zadoorian's earlier novels--The Lost Tiki Palaces of Detroit, The Leisure Seeker and Beautiful Music--this new novel brims with wit, passion and soul."
--The Millions, one of The Millions' Most Anticipated Books of 2020
"If the very idea of irony were to die during the coronavirus, how would one bury it? A new book by Ferndale writer Michael Zadoorian might provide an answer."
--Lansing City Pulse
"A quite wondrous, thoroughly entertaining and delightfully enthralling journey through a Detroit of 11 years ago that is, without a shadow of a doubt, a must read for any Detroit natives."
--Exclusive Magazine
" Zadoorian's] message--that as we get older, it's okay to reimagine our lives and maybe even sell out a little, as long as we stay true to our authentic selves--is earnest. And a side plot that takes Joe through some grand theaters of yesteryear, now dangerously decrepit, provides moments of genuine poignancy."
--Booklist
"Zadoorian's comedy of contemporary manners resonates by virtue of its introspective characters and depictions of the small moments in life that, taken together, have great significance. Piquantly titled chapters ('Out Come the Freaks') provide additional comic snap. Zadoorian's subtle, timely story hits the mark."
--Publishers Weekly
"Detroit in 2009 is depicted as a place whose glory days are behind it and whose future is uncertain. Ana and Joe are neither fortune-seeking gentrifiers nor grizzled veterans, and their need to find a specific place where they belong makes for some of this novel's most affecting moments... This novel's] empathy and lived-in qualities are both appealing."
--Kirkus Reviews
" A] warm, surprisingly playful novel about middle-age crisis...Zadoorian's obvious affection for Detroit, along with his enthusiasm for his characters' pursuit of meaningful lives, makes this a very enjoyable read."
--Library Journal
"Michael Zadoorian uses funky hometown of Ferndale as the backdrop of his latest novel."
--Stateside (Michigan Public Radio)
Joe Keen and Ana Urbanek have been a couple for a long time, with all the requisite lulls and temptations, yet they remain unmarried and without children, contrary to their Midwestern values (and parents' wishes). Now on the cusp of forty, they are both working at jobs that they're not even sure they believe in anymore, but with significantly varying returns. Ana is successful, Joe is floundering--both in limbo, caught somewhere between mainstream and alternative culture, sincerity and irony, achievement and arrested development.
Set against the backdrop of bottomed-out 2009 Detroit, a once-great American city now in transition, part decaying and part striving to be reborn, The Narcissism of Small Differences is the story of an aging creative class, doomed to ask the questions: Is it possible to outgrow irony? Does not having children make you one? Is there even such a thing as selling out anymore?
More than a comedy of manners, The Narcissism of Small Differences is a comedy of compromise: the financial compromises we make to feed ourselves; the moral compromises that justify our questionable actions; the everyday compromises we all make just to survive in the world. Yet it's also about the consequences of those compromises--and the people we become because of them--in our quest for a life that is our own and no one else's.
About the Author
---
MICHAEL ZADOORIAN is the critically praised author of Beautiful Music, as well as The Leisure Seeker--the basis for the 2018 Sony Pictures Classics film starring Helen Mirren and Donald Sutherland. Zadoorian is a recipient of a Kresge Artist Fellowship in the Literary Arts, the Columbia University Anahid Literary Award, the Great Lakes Colleges Association New Writers Award, the GLIBA Great Lakes Great Reads award, and a Michigan Notable Book Award. His other books are Second Hand: A Novel, and the story collection The Lost Tiki Palaces of Detroit. His work has appeared in the Literary Review, Beloit Fiction Journal, American Short Fiction, Witness, Great Lakes Review, North American Review, Detroit Noir, and the Huffington Post. A lifelong resident of the Detroit area, he lives with his wife in a 1937 bungalow filled with cats and objects that used to be in the houses of other people.