The Actor Uncovered (Hardcover)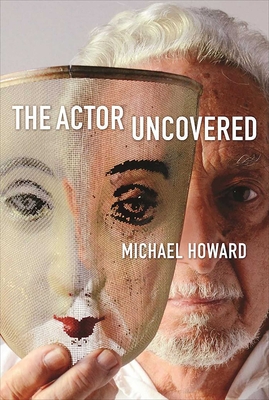 $24.99
We Can Order This For You
Description
---
The Actor Uncovered
is certainly not a set of rigid rules advocating one "method" or one singular "truth." Departing from the common guidebook format, Michael Howard uses a unique approach to teaching acting, reflecting on his own history and sharing his own experiences as an actor, director, and teacher. How he writes about the process and craft of acting is at once intensely personal and relatable by others.
Readers are invited to participate as though present in this master teacher's classes. Each human being, and thus each actor, is unique. Howard encourages actors to uncover their own ways of working, using their particular abilities and personality traits. Going beyond the craft and into human psychology and the importance of acting as a life force, readers will see new and deeper ways to study and practice, to be introspective, and to arrive at places of revelation about their craft.
The Actor Uncovered
will have much to say to beginners, to those who are advanced, and to professional and working actors. Howard discusses such topics as:  
Techniques, styles, and methods in a changing society
Relaxation, concentration, and the breath
The relationships among actor, director, and writer
Memory
On camera versus on stage
Obstacles
After more than seventy years as a professional actor, director, and teacher, Howard shows how living creatively and invoking one's own personality can lead to a successful career as an actor.
About the Author
---
Michael Howard has been a major force in American theater for more than seven decades. After studying with Sanford Meisner in the 1940s and Lee Strasberg in his private classes and in the Actors Studio in the 1950s, Howard enjoyed an acting career that led him to work with such American luminaries as Clifford Odets and Uta Hagen before moving on to direct and teach. He served as the first artistic director of Atlanta's Alliance Theater and later on the faculties of Julliard and Yale University. A teacher for more than fifty years in the studio he founded, Michael Howard Studios, he has been and continues to be a trainer of actors who have achieved international recognition.
Praise For…
---
"A truly extraordinary blend of personal memoir and instructional text, The Actor Uncovered will prove to be an enduringly popular addition to community and academic library 'Theatre Arts' collections and supplemental studies reading lists." —Midwest Book Review
 
"The life's work of one of our most beloved theatrical giants. It stands head and shoulders above other texts about acting." —Victoria Clark, Tony Award-winning actress
 
"This book is a must for anyone who wants to understand a life in the theater. I give it to aspiring actors, and I turn to it myself for inspiration." —Mary Beth Peil, Tony-nominated actress
 
"I consider Michael Howard the most important mentor I've had in the theater, as an acting teacher and as a director." —Michael Kahn, artistic director, Shakespeare Theatre Company, Washington, DC
 
"Reading The Actor Uncovered is like sitting backstage in a dressing room next to the master actor, the star of the show, who is kind and generous enough to chat with you about everything you always wanted to know about a life in the American theater." —Richard Warner, head of acting, University of Virginia
 
"Michael's book is for anyone interested in acting, theater, and freedom of expression." —Patsy Rodenburg, OBE, head of voice, Guildhall School of Music and Drama
 
"The Actor Uncovered is a book I would highly recommend to every actor enrolled at my studio as a must-read. . . . [This book] is filled with the same passion, love, respect, and dedication to the actor that I encountered when studying with Michael." —Terry Schreiber, founding artistic director, T. Schreiber Studio for Film and Theatre
 
"This book radiates wisdom . . . Every person embarking upon a career as an actor needs to read this book." —Judith Levitt, Department of Theatre Arts, Ithaca College
 
"Michael has written a gem, a perfect volume for young actors and would-be actors to find orientation and inspiration, as well as for advanced acting students and experienced actors to read for replenishment of spirit." —Tom Oppenheim, artistic director, Stella Adler Studio of Acting