Sons of Chaos (Hardcover)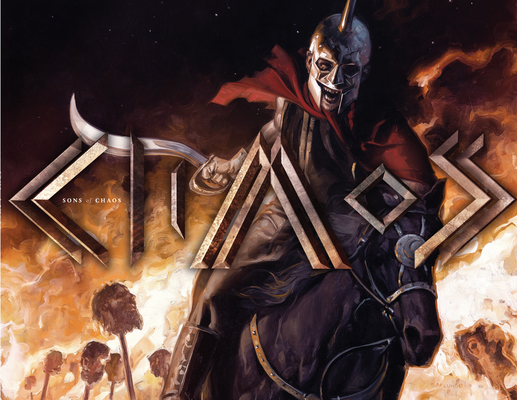 Description
---
This epic graphic novel of the Greek people fighting for their independence brings into focus a widely unknown portion of world history for modern readers.

The Greek War for Independence was a conflict that quietly influenced the entire world and participants ranged from the London Stock Exchange to celebrities such as Lord Byron. Average impassioned Americans also were willing to transport themselves across the Atlantic to fight alongside the Greeks. This conflict was the pinnacle of what we now know as the Romantic Period and yet, it's a war that few know ever existed outside of the Greek and Turkish cultures; a war that stimulated the fall of the Ottoman Empire and shaped what we now know as the Western World, and in a sense is being fought today under a different heading amongst the political leaders of the Eastern and Western worlds.

The son of a Greek leader, Marcos Botsaris, was taken prisoner as a child and raised within the dungeons of an Ottoman Pasha. Ten years later, it's 1821 and he heads back to Greece intent on leading his people in revolution.
About the Author
---
Award-Winning Writer/Director and active philanthropist Chris Jaymes has three decades in the entertainment industry, as an actor, director, and writer, and member of the Capitol Records recording artist band, Bootstraps. His acting credits include numerous network shows such as the ABC hit series LOST, Party of Five, and others. His feature film directorial debut, In Memory of My Father, attained nearly 20 international awards and nominations, and his non-fiction book Boxing Day was published in 2007 surrounding his experiences in the 2004 tsunami, which devastated South East Asia. His research and footage of marine mammals won the 2014 Michael Debakey Journalism Award, recognizing outstanding journalism that highlights the responsible use of animal models in recent medical discoveries and scientific breakthroughs.

Author Website: chrisjaymes.com
Connect with Chris Jaymes on Facebook: facebook.com/chrisjaymes
Praise For…
---
"Jaymes should be commended on how well he did in writing Sons of Chaos. Equally commended is Ale Aragon, the artist. With his sketchy style, the book felt constantly in motion. The battle scenes, however, where were Aragon shined with an unflinching eye to the harsh realities, such as people committing suicide to escape a massacre. Then there are the monstrous faces that he gives the soldiers in battle, killing each other on the battlefield. It's very jarring and real in the brutality, but there are some softer moments as well." -4YE

"You can tell the work and love that went into making this book. The writer and artist both put so much of themselves into it. It is an epic tale." -First Comics News

"In his fictionalized retelling of Greece's 1821 war for independence against the Ottoman Turks, writer Chris Jaymes has crafted a solemn tale of secret love and unfathomable loss. ...Sons of Chaos is ultimately a story of fathers and sons, in many ways lost boys robbed of empathy and compassion by torturous deprivations inflicted by other broken men. It tells of the ruinous burden of vengeance on the hearts and minds of those imprisoned by it, and it's poignancy cannot be understated in the world we find ourselves in." --Comic Attack