How I Escaped Political Correctness And You Can Too (Paperback)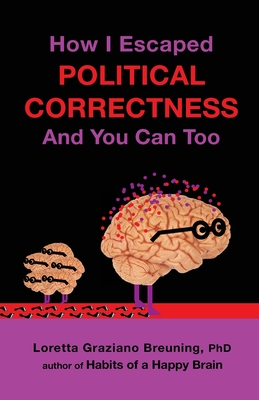 Description
---
You care about the greater good, but you want to define it for yourself. What if you disagree with the politically correct view?
You fear ridicule, shunning and attack, so you tell yourself it's not worth it and find a way to conform. Until one day you can't.
I was politically correct until the day I heard myself lie about a simple fact because the truth didn't sound progressive. I froze- in the middle of a lecture to 150 students. Enough I decided to take back my brain. I gave myself permission to see what I see and know what I know instead of living in fear. It cost me, but the benefits outweighed the costs. Here is the story of my transition. You can do it too.
This book shows you how:
biology drives political correctness
you can enjoy the rewards of political correctness without it
you can feel good when conformity surrounds you
What do I mean by Political Correctness?
I do not mean the hot-button dramas that fill the headlines. They are just tribal solidarity rituals. I mean the belief that we are suffering under a "bad system." Political correctness trains you to feel victimized by bad guys running the bad system, and to fight them by following the leaders of political correctness. If you follow, you get to be one of the good guys and share in the rewards that these leaders control. If you don't follow, you are labelled a bad guy and excommunicated. This message is so pervasive that we take it for granted. I only questioned it after decades of noticing a gap between the facts of my life and the politically correct dogma. I saw that the good guys are not all good and the bad guys are not all bad. I tried to overlook the inconvenient facts because I feared excommunication. But when I had kids, I saw how harmful it is for children to be taught that they're powerless victims. I did not want my kids to blame their frustrations on bad guys and "the system." I wanted them to believe in themselves instead of just following the lead of political correctness. It's hard to leave the world view that has shaped your life. I searched for alternatives, but after all I'd been through, I could not embrace another preconceived belief system. I looked for answers that fit reality as I'd lived it. My search led to amazing research on the social behavior of animals. This showed me that political correctness is biological. The brain chemicals that make us feel good are inherited from earlier mammals. They reward us for behaviors that promote survival in the state of nature. Political correctness stimulates your reward chemicals in primal ways. I'm not saying we're hard-wired. On the contrary, our neurons are not connected at birth. We connect them from life experience, and these connections make us who we are. Early experience wires you to expect rewards and pain in ways that happened before. Political correctness wires you to expect rewards and pain in specific ways. It's hard to re-wire yourself after the neuroplasticity of youth, which is why people cling to political correctness even when they see its flaws. I finally ripped off the PC goggles and looked at the world without them. You can say I haven't escaped political correctness because it's still there. But I have stopped filtering reality through the lens built by the gatekeepers of political correctness. I have learned to focus on the pleasure of my own choices instead of on solidarity with suffering. You can rip off the PC goggles and enjoy your own choices too. You'll be glad you did.
About the Author
---
Loretta Graziano Breuning, PhD is Founder of the Inner Mammal Institute and author of Habits of a Happy Brain: Retrain your brain to boost your serotonin, dopamine, oxytocin and endorphin levels. She's Professor Emerita of Management at California State University, East Bay. As a teacher and mom, Loretta was not convinced by prevailing theories of human motivation. Then she learned about the brain chemistry we share with earlier mammals, and everything made sense. So she began creating resources to help people manage their inner mammal. Her work has helped thousands of people rewire themselves for more happy chemicals. Her work has been featured on Forbes, NPR, Fox, the Wall Street Journal, NBC, Psychology Today, Cosmopolitan, Inc, Men's Health, Fast Company, Dr Oz, Men's Health, Real Simple. She has been interviewed on a large number of podcasts, including James Altucher, Brainfluence, Recovery Unscripted, YogaBody, FatburningMan, and Primal Blueprint. She has spoken at the International Coach Federation, the Latin American Positive Psychology Network, the Relational Center, and Imagery International. Her books have been translated into Spanish, Russian, Chinese, Arabic, French and Turkish. Dr. Breuning holds a BS from Cornell University and a PhD from Tufts University. She's married and has two children who are tax-paying adults. In her free time she likes to visit historic places and watch Spanish and French videos while exercising.