Western Portraits: The Unsung Heroes & Villains of the Silver Screen (Hardcover)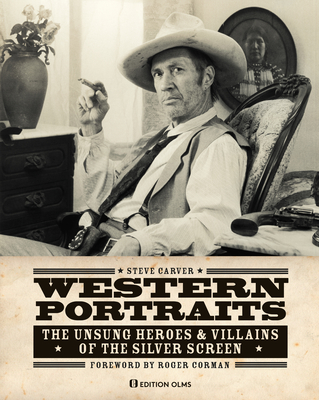 Description
---
The American West, as we know it, is defined by the movies, and the Western is the oldest film genre. When the movies were born, it was not that long after Promontory Point and the Civil War, so those memories were still there in the minds of the very first movie audiences as they watched The Great Train Robbery. And the myth-making is as important as the brutal truths of history.  As the reporter tells Jimmy Stewart in Ford's The Man Who Shot Liberty Valance, "This is the West, sir. When the legend becomes fact, print the legend."
 
Rendered in rare, evocative tones reminiscent of Edward Sheriff Curtis's immortal photographs, Western Portraits provides readers with a collection of stylized portraits that capture the allure and mystique of the Old West, complete with authentic costuming, weaponry and settings.
 
From the epic feature film to the TV series and serial, this coffee table book will put the story of character actors and the significance of their memorable roles into an entertaining perspective.
 
The subjects include such popular, recognizable actors as Karl Malden, David Carradine, Denver Pyle, R. G. Armstrong, L. Q. Jones, Horst Buchholz, Henry Silva, Ruta Lee, Morgan Woodward, Bo Hopkins, Clu Gulager and 72 others.
 
The market for this book will include lovers of classic cinema, Western history aficionados, writers, scholars and collectors of nostalgia and fine art photography. It will awaken movie memories in people's hearts, introduce others to the amazing work of these acting artists and serve as a record of the best of the Hollywood Western.

THE PHOTOGRAPHS:
R. G. Armstrong, John Beck, Crispian Belfrage, Bruce Boxleitner, Tom Bower, Horst Buchholz, R. D. Call, John "Bud" Cardos, David Carradine, Robert Carradine, Johnny Crawford, Rick Dano, Michael Dante, Robert Davi, Bruce Davison, Lee de Broux, Fred Dryer, Robert Evans, Ed Faulkner, Al Fleming, Robert Forster, Rosemary Forsyth, Gray Frederickson, Max Gail, Bruce Glover, Billy Green Bush, Clu Gulager, Buddy Hackett, George Hamilton, Gregory Harrison, Richard Harrison, Richard Herd, Louis Herthum, Darby Hinton, Bo Hopkins, John Dennis Johnston, L. Q. Jones, Leon Isaac Kennedy, Terry Kiser, Jeff Kober, Paul Koslo, Marty Kove, Art LaFleur, Ruta Lee, Ken Luckey, Barbara Luna, Karl Malden, Ray "Boom Boom" Mancini, Monte Markham, Ken Medlock, Dick Miller, Chris  Mulkey, Jan Murray, Louis Nye, Hugh O'Brian, Michael Paré, Michael Parks, Denver Pyle,  Richard Roundtree, Peter Mark Richman, Jorge Rivero, Stefanie Powers, Mitchell Ryan, John Savage, John Schneider, Jacqueline Scott, Henry Silva, Tom Sizemore, Paul L. Smith, William Smith, Phil Spangenberger, Bo Svenson, Tim Thomerson, Jan-Michael Vincent, Jesse Vint, Hunter von Leer, Kateri Walker, Fred "The Hammer" Williamson, Lana Wood, Robert Wood, Morgan Woodward, Rob Word, Harris Yulin; with photographs in book's back section of Steve Carver, C. Courtney Joyner, Robert Zinner, Danny Chuchian

 
About the Author
---
Brooklyn native Steve Carver studied photography at the University of Buffalo and Washington University in St. Louis. He pursued a formal education in filmmaking at the American Film Institute's Center for Advanced Film Studies, also participating in the Directors Guild of America's apprenticeship program. Prolific motion picture producer Roger Corman hired Carver to direct four movies, including Big Bad Mama. Carver also directed American action star Chuck Norris in An Eye for an Eye and Lone Wolf McQuade.

One of the most prolific and influential figures in the history of movies, Roger Corman sponsored several directors during the early parts of their careers, including Francis Ford Coppola, Peter Bogdanovich, Penelope Spheeris and Steve Carver. Corman has served as producer on hundreds of motion pictures. He has directed dozens of films himself, including the Westerns Five Guns West and Gunslinger. In 2009, he received an Honorary Award from the Academy of ­Motion Picture Arts and Sciences for "his unparalleled ability to nurture­aspiring filmmakers."

C. Courtney Joyner is a writer whose first major output was a string of more than 25 movie screenplays beginning with The Offspring starring Vincent Price, and Prison directed by Renny Harlin. His novels include the new fantasy-adventure Nemo Rising and the Shotgun Western series, both of which have been optioned for television. A noted film historian, he lives in Los Angeles.

Stephen B. Armstrong, Ph.D., is a professor of English at Dixie State University in St. George, Utah. His writing has appeared in numerous publications, including Film Quarterly, Film Score Monthly, Filmfax and Quarterly Review of Film and Video. His books include Pictures about Extremes: The Films of John Frankenheimer, Paul Bartel: The Life and Films and Andrew V. McLaglen: The Life and Hollywood Career. He also directed Return to Little Hollywood, an award-winning documentary about the history of motion picture production in southern Utah.