Chris Jaymes discusses and signs Sons of Chaos
This epic graphic novel of the Greek people fighting for their independence brings into focus a widely unknown portion of world history for modern readers.
The Greek War for Independence was a conflict that quietly influenced the entire world and participants ranged from the London Stock Exchange to celebrities such as Lord Byron. Average impassioned Americans also were willing to transport themselves across the Atlantic to fight alongside the Greeks. This conflict was the pinnacle of what we now know as the Romantic Period and yet, it's a war that few know ever existed outside of the Greek and Turkish cultures; a war that stimulated the fall of the Ottoman Empire and shaped what we now know as the Western World, and in a sense is being fought today under a different heading amongst the political leaders of the Eastern and Western worlds.
The son of a Greek leader, Marcos Botsaris, was taken prisoner as a child and raised within the dungeons of an Ottoman Pasha. Ten years later, it's 1821 and he heads back to Greece intent on leading his people in revolution. (IDW Publishing)
Event date:
Thursday, August 8, 2019 - 7:00pm
Event address:
Book Soup
8818 Sunset Boulevard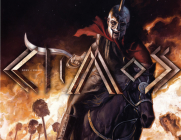 $39.99
ISBN: 9781684054794
Availability: On Our Shelves Now
Published: IDW Publishing - July 16th, 2019
---